Click on the different sections below to learn about buying a home.
What can I afford?
When buying a home you need to know how much you can comfortably afford, how much your lender will underwrite in the form of a mortgage, what your own out-of-pocket expenses will be, and what kind of contingencies need to be included in the offer to allow you some negotiating room.
The home buying process
How much will buying a home really cost me?
Purchase Price
Home Inspections | $200 – $400+
Appraisals | $400 – $600
Moving Costs | Cost may vary based on moving distance
Closing Fees | Lender/Title Company/Administrative Fees: (~2.5% of purchase price)
If you decide to purchase a new home, different costs may arise:
Most new homes do not have completed landscaping so it is important to factor the cost of landscaping into your budget.
Glossary of Mortgage Terms
Annual Percentage Rate (APR): The total yearly cost of a mortgage stated as a percentage of the loan amount; includes the base interest rate, primary mortgage insurance and loan origination charges (points).

Amortization Period: The time (years) it will take to repay a mortgage in full. The longer it takes to pay off, the more interest one pays, due to lenders charging interest on mortgage loans.

Appraisal: A professional opinion of the market value of a property.

Down payment: The portion of the purchase price which the buyer pays in cash; is not financed.

Escrow: The holding of documents and money by a neutral third party prior to closing.

Fixed-rate mortgage: The interest rate does not change during the loan term.

Lien: A legal claim against a property that must be paid when the property is sold.

Lock-in: A written agreement guaranteeing the homebuyer a specified interest rate provided the loan is closed within a set period of time.

Pre-qualification: The process of determining how much money a prospective homebuyer will be eligible to borrow before a loan is applied for.

Underwriting: The process of evaluating a loan application to determine the risk involved for the lender.
VA Loans
Available to veterans and active duty members of the Armed Forces, Selected Reserves, and National Guard; must provide Certificate of Eligibility
Veterans can use entitlement multiple times; not required to be a first-time buyer. Additional restrictions may apply
No minimum down payment required with sufficient entitlement – VA high balance loans may require a down payment even when sufficient entitlement is provided. See a mortgage lender for details.
4% seller concessions allowed for closing cost assistance
Gift funds from family members may be used towards closing costs
Borrower must have a minimum 620 credit score
No mortgage insurance premiums; Potential annual savings of .30% – 1.15% of the loan amount
Ability to refinance up to 100% of the home's appraised value
El Paso County loan limit – $417,000
Funding fee (percentage of the loan amount) can be financed into the loan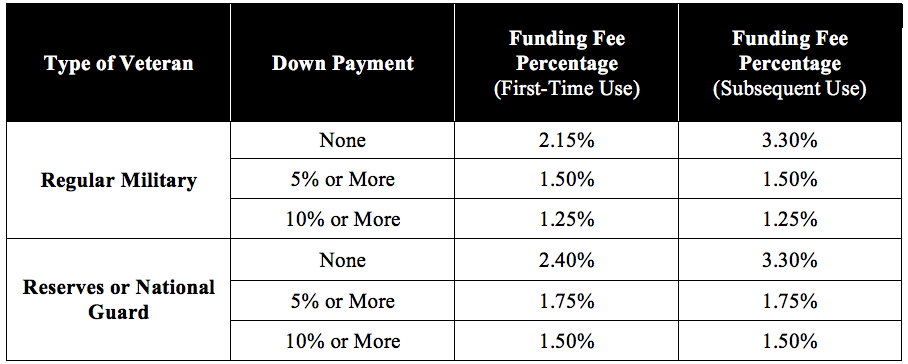 Questions? No problem. We're here to help.