Find the Perfect Neighborhood with our Colorado Springs Neighborhood Guide
Colorado Springs Area Map
Click on a section of the map for More Information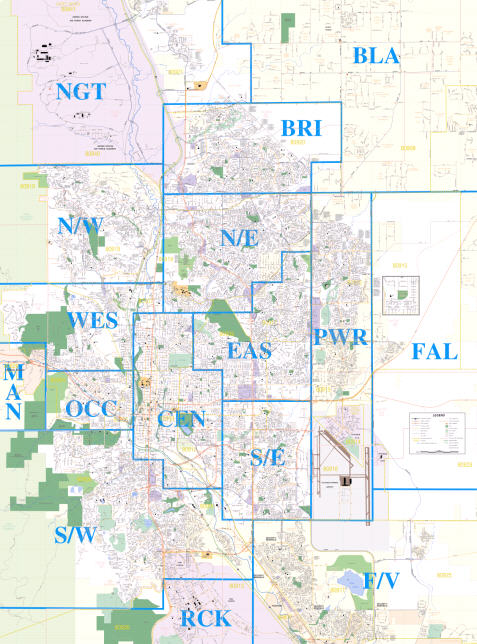 4
Northwest Colorado Springs
5
Northeast Colorado Springs
9
Central/Downtown Colorado Springs
10
West Side, Colorado Springs
11
Manitou Springs, Colorado
13
Southwest Colorado Springs
14
Southeast Colorado Springs
15
Fountain Valley, Colorado
16
Southern Communities, Colorado Springs
Nothing can make a new home owner happier than knowing they are in a safe environment with easy access to some of the best places in Colorado Springs, including schools, shopping, and farmers markets.
Finding the right neighborhood for your needs can be difficult.
But since we moved to the region in the 90s, we've fallen in love with our neighborhood. As stewards of Colorado Springs, we've taken the time to put together a guide to all of the Colorado Springs neighborhoods that will satisfy anyone buying a new home in the Pikes Peak area – you'll be sure to find the perfect one for you.
A Variety of Neighborhoods in Colorado Springs – One is Right For You
Some neighborhoods in Colorado Springs offer the ambiance that comes with living outside of the city, while others are right next to the action. Our comprehensive Colorado Springs neighborhood guide makes the search a little easier, covering topics like distances to schools, parks, recreation and even parades and shopping.
If there is any area you are interested in below just click on it in the list or one of the hotspots on the interactive map. Once you find a great neighborhood be sure to check out some of our real estate aerial tours.
Having trouble finding the perfect neighborhood? The Becky Gloriod Partners are here to help.