Here are this the Colorado Springs local real estate market stats. The following information will give you a better understanding of the current trends and opportunities in Colorado Springs.
Inventory:
Total available inventory remains low, but we have seen a notable increase of 28.6% compared to May 2022. This month, we have 1,750 homes available, up from 1,360 homes last year. This rise in inventory could be attributed to various market factors and presents potential opportunities for both buyers and sellers.
Average Days on Market:
The average days on the market have increased from 11 days a year ago to 31 days currently. Houses are taking longer to sell, indicating a shift in the market dynamics. However, it's important to note that well-priced properties continue to attract strong attention and tend to go under contract quickly.
Affordability and Interest Rates:
Affordability continues to be influenced by rising interest rates. Average rates on a 30 year fixed rate mortgage are 6.9% today, compared to 5.49% a year ago. While rates have had an impact across the board, we have noticed strong buyer interest and activity in the higher price ranges. This suggests that motivated buyers are still keen on investing in our local real estate market, even with the current financial landscape.
Key Insights:
With the increased inventory, it's essential for sellers to work closely with an experienced real estate professional who can help them navigate the changing market conditions, optimize pricing strategies, and carefully strategize their marketing approaches to stand out in the market.
Buyers should remain diligent and take advantage of the wider selection available.
I'm here to provide you with a personalized market analysis and offer guidance tailored to your specific needs. If you have any questions or would like to discuss your real estate goals, I'm just a phone call away!
Supply by Price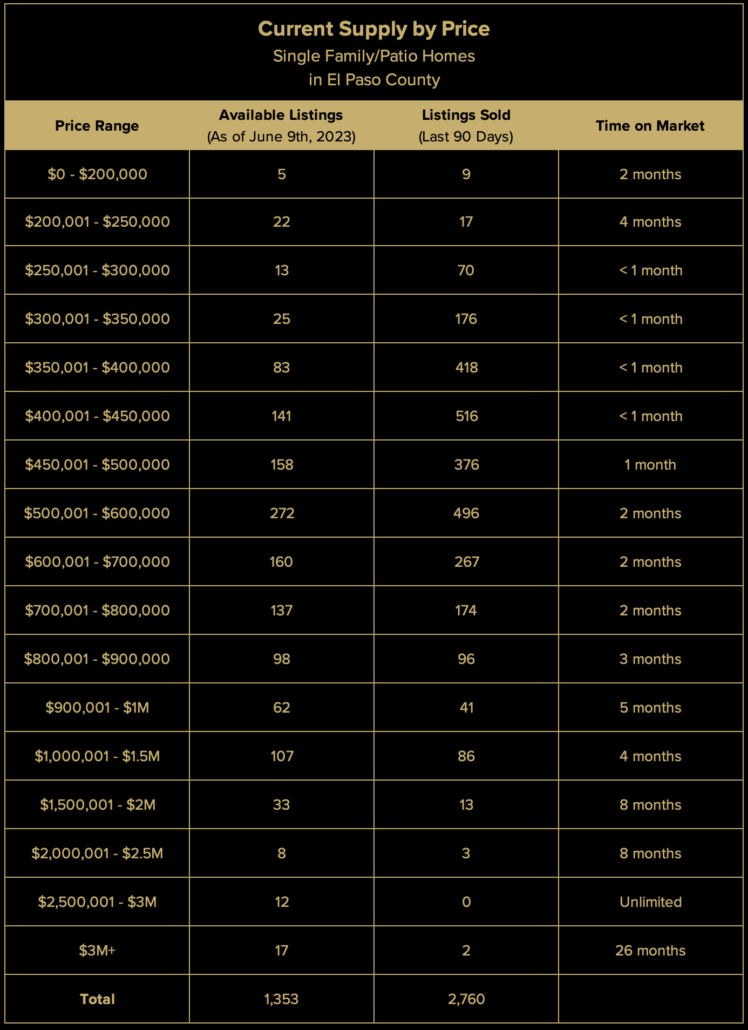 https://beckygloriod.com/wp-content/uploads/2021/03/logo-becky-gloriod-partners-thin.jpg
0
0
beckygloriod
https://beckygloriod.com/wp-content/uploads/2021/03/logo-becky-gloriod-partners-thin.jpg
beckygloriod
2023-06-15 10:39:09
2023-06-15 10:39:10
Colorado Springs Real Estate Market: June 2023 Trends & Opportunities