Market Update – Colorado Springs Real Estate – May 2023
Hi everyone, here's your Colorado Springs real estate market update for May 2023. If you would like to receive this market update automatically in your email inbox every month, please reach out to me at 719-229-9777 or becky@gloriod.com.
The current real estate market remains strong, but I do see headwinds coming. First and foremost, higher interest rates have negatively impacted first-time home buyers and "move-up" buyers. As a result, the sales of lower-priced homes have been hurt more by the higher interest rates than the more expensive homes.
However, in general, inventory remains low which is sustaining the real estate market and is helping to keep prices up. In fact, I just listed a home for $1,050,000 and got four full price offers the first weekend it was on the market. But, there are headwinds.
Currently properties are taking longer to sell which is gradually going to increase inventory and probably result in more of a "Buyers' Market." In fact, in the past 3 days in El Paso Country, there have been 113 new listings (ie, low inventory.) However, in that same 3-day period, there have been 128 price reductions. The increasing number of price reductions indicates that you must be priced correctly and that the market is softening. Don't get me wrong, properties are still selling… you just have to be priced right. And, our prices are still up from 2020 so you have equity to enjoy if you're a seller.
Thank you for taking the time to read this month's real estate market update. As always, my goal is to provide you with the most accurate and up-to-date information on the state of the market. I hope you found this article informative and helpful in making informed decisions regarding your real estate needs.
If you have any questions or would like to discuss your specific real estate needs, please do not hesitate to contact me. I'm just a phone call away and offer personalized advice and support!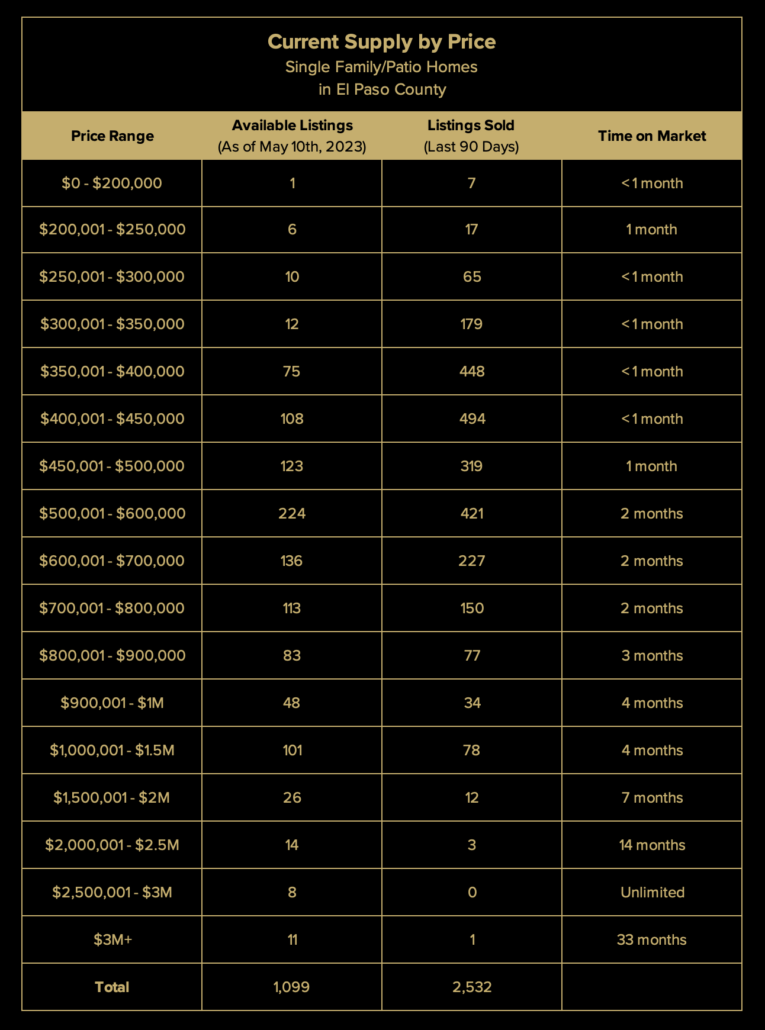 https://beckygloriod.com/wp-content/uploads/2021/03/logo-becky-gloriod-partners-thin.jpg
0
0
beckygloriod
https://beckygloriod.com/wp-content/uploads/2021/03/logo-becky-gloriod-partners-thin.jpg
beckygloriod
2023-05-10 13:36:49
2023-06-13 14:46:38
Market Update – Colorado Springs Real Estate – May 2023